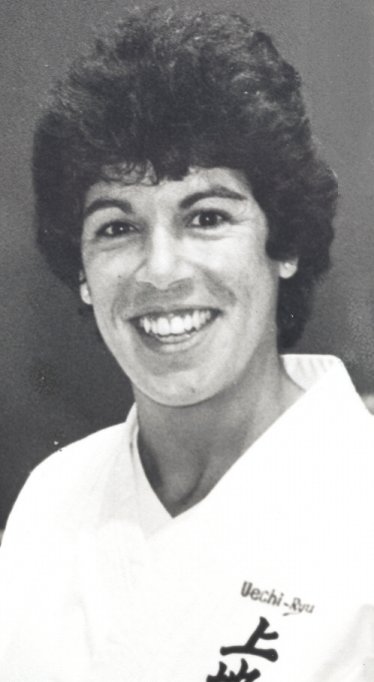 A MESSAGE FROM TOUR DEVELOPER "PEGGY" HESS:

Ms. Marguerite Hess, a 6th degree black belt from Jensen Beach, Florida, has assembled this particularly unique group. "Peggy" who has been training and studying traditional karate for over 31 years, is internationally recognized for her pioneer spirit, high standards of practice and commitment. It is only because of her energy, effort and vision that these women, from diverse ethnic backgrounds, have come together. Their goal is to deepen their knowledge, gain invaluable experience, forge international bonds and promote cultural exchange, as it all relates to the study of traditional Okinawan Martial Arts. Her message follows.
A CALL TO FRIENDSHIP

It has always been my dream to provide an opportunity for senior women martial artists studying Uechi-Shoheiryu to come together, in unity, as a group, on common ground.

My invitation to "FRIENDSHIP" in September, 2002, reached out to all corners of the world and then came together with a life of its own and the "Women's Friendship Tour 2004" to Okinawa was created.

From a unique perspective as a senior ranking woman and through my participation in karate over the past 31 years, I have had the privilege of meeting and befriending fellow martial artists from all over the world. These incredible bonds between my seniors and contemporaries, in most cases, have lasted a lifetime for me!

Believing in the contributions of women to traditional karate, I wanted to provide a similar opportunity for women from around the globe to travel as a team to Okinawa, the birthplace of karate to study, promote cultural exchange and forge indelible international relationships in the spirit of community, cooperation and friendship.

"FRIENDSHIP" calls each of us into life; it is fundamental to living a quality life and is our only hope for one united world. With its power, humanity will develop and flourish and, like our dreams, it is boundless.

I have come to understand that we need to support each other because human growth depends on successful friendships and personal relationships. It is imperative to promote people exchanges and this is the catalyst behind my efforts in organizing such an unprecedented event. Through the power of goodwill and unity; by promoting international understanding and tolerance; by developing peaceful relations and friendships among people, a better understanding of one other's way of life will result and world peace will be built... friendship by friendship.

I know that our martial studies are vehicles for self-discovery. The spirit of karate instills in us the ability to recognize and appreciate the talents of others and the ability to work with them. When we seek to discover the best in others, we somehow bring out the best in ourselves.

Through our beloved martial art we are able to unite a group of women from different backgrounds, all working and training together to achieve common goals. Even if we fall short, sharing the journey is an experience none of us will forget.

I believe that, one by one, friend to friend, we will make a difference in our world. Therefore, we need to support one other. So let us celebrate our enduring friendships which can only grow stronger through the years. Bringing people of the world together, we are are creating a pathway for a greater tomorrow.
Sincerely,
Peggy Hess
* The Women's Friendship Tour Association, Inc. took place April 12 –26, 2004
Women's Friendship Tour aSSOCIATION, iNC. Marguerite Hess, 3576 N.E.Skyline Drive, Jensen Beach, Florida 34957 Telephone: (772) 334- 7731