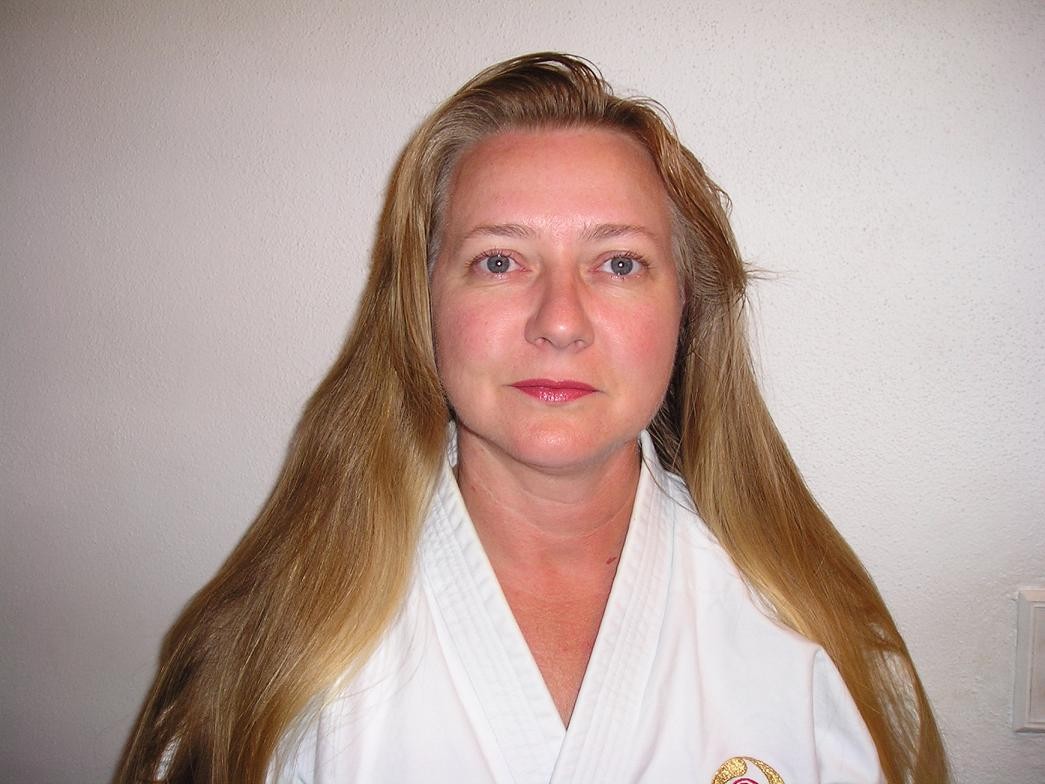 Biography
Karenís interest in martial arts spans three decades and many styles. Karen explains the diversity of her experiences, sharing that there have been periods in her life where she traveled some, became a parent, experienced burn out, experienced the closure of her karate school, had an accident, etc. While all of these factors challenged her to try different styles and instructors, Karenís determination to pursue martial arts remained strong. In 1987, she found Uechi Ryu karate, in which she is now firmly embedded. Karen achieved the rank of Shodan, first degree black belt in 1999.
Family, work and community life keep Karen hopping. She is married with two busy teenagers. Karen is a Sales Director for Trinity Memorial Gardens in Lakeland, Florida. She is an avid volunteer in her community, recently resigning after serving over 10 years with the American Red Cross chairing committees, etc. She is also active in her faith community, and readily assumes volunteer positions supporting her childrenís endeavors in the community. Karen lives with her family in Temple Terrace, Florida of the Tampa Bay area. She states that this has been a lifelong dream to go to Japan. Fearing an opportunity might pass her by, the dream is coming true and she joins this incredible collection of ordinary women, doing something extraordinary.
Personal Information
Current Occupation or Profession

Sales Director for Trinity Memorial Gardens

Marital Status

Married

Hobbies, special interests or skills

Karate, Photography, American Red Cross, Boy Scouts, 

Church, Youth Sports

Age
43
Karate Information
Current Rank:

Shodan

Total years of study

31 years

Current style

Uechi Ryu

Current Dojo

Brandon Uechi Ryu

Current Instructor

Joe Guidry

Association affiliation

Karate training and years attended:

Aikido, Korean Karate, Yoshukai, Shu In Ryu, Uechi Ryu

Other Martial Arts or weapons Studies

1973     Aikido-Instructor John LaMonte Rank-

        Just a couple of belts into it.

1973     Korean Karate-Nyle Clay 

1974-81 Yoshukai Karate - I

        nstructors Benny Fernandes Sr. 

        & Jr. and Ron Slinker (Foster)

1984-85  Shu In Ryu- Instructor-Ray Navitas

1986     Yoshukai

Kobo Do-Bo, Sighs, 





Giwa




, 




Ore





, Nun Chucks



 Karate Promotions

 
| | | | |
| --- | --- | --- | --- |
| Rank | Certificate Number | Date of Issue | Location of Promotion |
| Shodan | 5321 | October 1, 1999 | Brandon |
Educational Background
College/University

Hillsborough

Community College

College Degree(s)
Questions:
At what age did you begin to study karate?
12
Why did you choose to study karate?
Discipline and Patience
Was there a reason why you chose to study Uechi Ryu?
Staying with the Japanese Kempo styles and opened doors I never went through before.
What does this tour to Okinawa mean to you?
That at 43 year old womans dream from the age of 12, can become reality.
How has your martial arts study affected or changed your life?
I stopped getting into fights in school. Gave me discipline, patients, overcame insecurities and taught me how to teach others.
Womenís Friendship Tour association, inc. Marguerite Hess, 3576 N.E.Skyline Drive, Jensen Beach, Florida 34957 Telephone: (772) 334- 7731