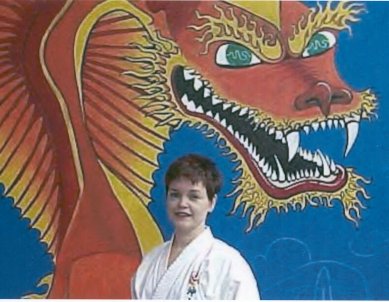 Biography
Donna began her karate life at age 37, thinking it prudent to develop some self-defense skills, as an active petite woman living in a city. Her son was the first family member to start karate, which enticed both she and her husband to join. She and her husband started studying Uechi Ryu Karate Do on the same day and have progressed together through the ranks testing together through Shodan. With more than 25 years of marriage under her belt and three black belts under her roof, Donna reflects the adage that families that play together stay together. She's active in karate, having taught classes and attended many seminars and conventions, eager to learn at every opportunity. She is a registered nurse with over 25 years experience, from hospital floors long-term care, home care, and doctor's office. Donna is a CPR instructor and a Reiki level II practitioner. She is active in a Methodist women's group dedicated to mission work for women, youth, and children in this country and around the world, and has held both local and district positions. Donna contributes as a member of Churchwomen United, bringing Christian groups together for mission locally and globally.
Personal Information
| | |
| --- | --- |
| Current occupation or profession | Registered Nurse |
| Marital Status | Married |
| Children | Daughter age 20, Son age 16 |
| Hobbies, special interests or skills | Reading, walking, camping, Reiki II practitioner, CPR instructor |
| Age | 46 |
Karate Information
Current Rank

Yondan

Total years of study

11 years

Current style

Shohei Ryu

Current Dojo

Okinawan Karate School , Stoughton , MA

Current Instructor

Steve Banchick

Association Affiliation

Okikukai/Shohei Ryu

Karate Training and years attended

a. August, 1999, Attleboro Mass Camp

b. August, 2002, Nakamatsu Training, Quincy Mass

c. September 1995, Jujitsu America , 17th annual convention

d. Spring, 1994, Jujitsu Self Defense

e. Fall 1994, Jujitsu Knife Training
Karate Promotion
s
| | | | |
| --- | --- | --- | --- |
| | | | |
| | | | |
| | | | |
| | | | |
| | | | |
| Yondan | TBA | 5/18/2003 | Norwell, MA |
| | | |
| --- | --- | --- |
| Teaching Certificates | Certificate Number | Date of Issue |
| Jun Shihan | | December 3, 2003 |
Educational Background
| | |
| --- | --- |
| College | Bryn Mawr Hospital School of Nursing, Bryn Mawr, PA |
At what age did you begin to study karate?
I was 37 years old.
Why did you choose to study karate?
Small woman living in a big city and thought I should develop some self defense skills
Was there a reason why you chose to study Uechi Ryu?
Son had taken this in past
How has your martial arts study affected or changed your life?
Martial arts has changed my life in so many ways – where do I begin? My son had previously taken karate and had taken a year off. So my son restarted karate and my husband I began karate at the same time. Having three people in the house taking 5 classes a week takes a lot of organization. It has helped my family be better organized to plan ahead for class and has improved communications among us.
Karate has opened my eyes to a new culture, philosophies, and a new language. As I have developed my chi, I have explored this further and have become a Reiki level II practitioner. As a registered nurse, I feel eastern medicine including herbal medicine, acupuncture, shiatsu and Reiki to name a few, complement western medicine. I have incorporated some of these in my medical practice. I have only begun to explore these areas.
I have also learned some Japanese along the way. This trip has encouraged me to learn more beyond the dojo requirements.
The development of my martial arts took a lot of work and still does, but not in the same focus as it did when I started. It took a lot of practice, repetition, perseverance and floor time to get where I am today in my karate journey.
Along this journey, I have found my karate family. If it was not for them I would not be on this trip. They have been a driving force keeping me on the right track along the years.