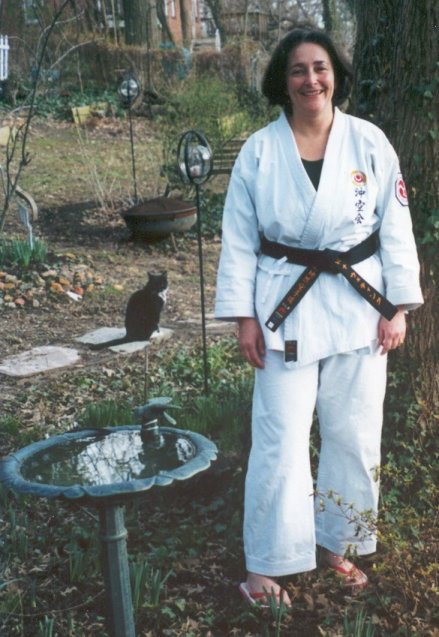 Biography
Donna was born in California and raised in Somerset, Massachusetts, as an only child, by two hard-working parents. Raised to be an independent-minded child, Donnaís proud that her parents taught her to stand oneís ground, philosophically and physically, if the situation calls for it. She thinks this upbringing may have sparked her interest in martial arts, when at age 8 she joined the Academy of Karate, learning a combination of Japanese karate, judo and jujitsu. She loved the physical activity and the formality of martial arts training. In junior high and high school, her interest in training ebbed and flowed. In high school she tried Tae Kwon Do, then stopped while in college. While teaching high school in the mid-80s, Donna started up again. After almost 4 years and while preparing to test for her black belt in Tae Kwon Do, she had to move to pursue a graduate degree in Louisiana. As all schools she found had a strong focus on high kicks and sport techniques, Donna patiently waited a few years to find a traditional style and dojo that she liked. She found a newly opened dojo in 1993, in her new home of Washington, DC. Being immediately impressed with the tone, the teaching style, and the type of karate, Donna has been there ever since.
Personal Information
| | |
| --- | --- |
| Current occupation or profession: | Environmental Policy Analyst |
| Age: | 45 |
| Marital Status: | Married |
| Hobbies, special interests or skills: | Tennis, golf, biking, birding, nature activities, outdoor sports |
Karate Information
Current rank:

Yondan

Total years of study

16 years

Current style:

Uechi-ryu/Shoheiryu

Current dojo:

Washington Karate Academy

Dojo location:

Washington, D.C.

Current instructor:

Robert Kaiser

Association affiliation:

Okinawa Karate-do Association

Karate and other martial training and years attended:

a. Japanese karate, judo, juijitsu program 1965-1970

b. Uechiryu/Shoheiryu - 1993- present

c. Mattson summer camp - 1996

d. Various mid-Atlantic training camps in Washington, D.C., Philadelphia, PA. 1993 - present

e. Summer Training Camp with Master Nakamatsu, Clearwater, FL., 1997

Other martial arts or weapons studies:

a. Tae Kwon Do - 1973-75

b. Tae Kwon Do - 1982-1986
Karate Promotions
| | | | |
| --- | --- | --- | --- |
| Rank | Certificate Number | Date of Issue | Location of Promotion |
| Ikkyu | | | |
| Shodan | 4694 | 1995 | Washington, DC |
| Nidan | 2369 | 1997 | Clearwater, FL |
| Sandan | 1212 | 2000 | Washington, D.C. |
| | | |
| --- | --- | --- |
| Teaching Certificate | Date of Issue | Location of Issue |
| Shidoin | 387 | 2000 |
Educational Background
College/University:

a. University of Massachusetts 1981

Bachelor of Science; Animal Science

b. Louisiana State University 1989

Post Graduate Work:

a. Master of Science: Marine Sciences

b. Course work in public policy
Questions:
At what age did you begin to study karate?
8 years old.
Why did you choose to study karate?
As a child, I was a very active tomboy and the thought of karate was very exciting. The 60s were the decade of Bruce Lee and the Green Hornet TV show, which probably made an impression on me.
Was there a reason why you chose to study Uechi Ryu?
As an adult, I had trained mostly in Tae Kwon Do. Although I gained a lot from my Tae Kwon Do training, I was interested in finding a karate style that was focused more on application than on sport. I was attracted to Uechi Ryu because the style fit my physical needs and my interest in application.
What does this tour to Okinawa mean to you?
Since beginning my training in Uechi Ryu I have been interested in the origins of the style. I have also been very impressed and learned so much when I have been fortunate enough to train with Mr. Nakamatso. When my teacher, Robert Kaiser, returned from Okinawa, it became clear to me how that trip added to his training and teaching. I want to improve my training and my teaching and I believe such a trip will do both for me.
How has your martial arts study affected or changed your life?
I have been training so long it is hard to tell at times what came first but I am convinced that martial arts have helped me develop an intensity and focus that has carried over to other aspects of my life; it has given me physical benefits; it has given me new friends from different walks of life that share a similar passion; it has given me insights to different cultures through the study of the history of martial arts; and it has given me a confidence in my ability to work through stress and difficult situations that I donít believe I could have gained anywhere else.
Womenís Friendship Tour association, inc. Marguerite Hess, 3576 N.E.Skyline Drive, Jensen Beach, Florida 34957 Telephone: (772) 334- 7731