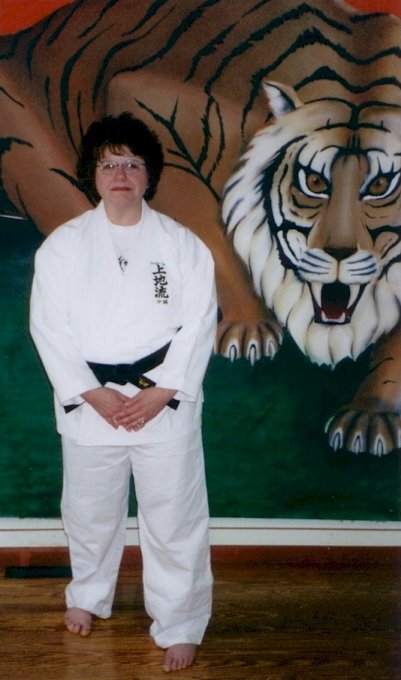 Biography
Jackie started training in Uechi-ryu over 16 years ago, as "a thing to do." A self-described renaissance woman, who also happened to be newly divorced with a small child, Jackie's business partner (then a Third Degree Black Belt in Uechi-ryu) encouraged her to try training as a way to cope with the stress of being a single mom. She had no idea what karate involved and is sure had she'd known, she never would have started training. As a life-long klutz, sports were not something she enjoyed at all. Jackie remembers saying to Sensei Bill Arch when he asked her why wanted to learn karate, "I heard it's about mind, body and spirit unity. I have no idea what that means, but I could sure use some help with all three." She committed to train in three month-increments, assessing what she'd learn and renewing her intent to train for another three months. Sometime after the first year, she realized she no longer questioned whether she would keep training or not – it was in her blood and she knew that Uechi-ryu was a life-long path of heart for her.
Her journey has also provided opportunities to study some Aikido, Chi Gung, women's self-defense as well as become a Senior Instructor at her dojo. Jackie believes that the study of martial arts has helped her learn patience, perseverance, as well as help her develop more confidence in her abilities. She treasures the friendships she's made along the way and is excited about making new friends and sharing knowledge. "The 2004 Women's Friendship Tour is an incredible opportunity to be a part of something greater. It's about women, friendship, respect for our lineage and history. It's an opportunity to learn from others of like mind and spirit!"
Personal Information
| | |
| --- | --- |
| Current occupation or profession | Systems/Administrative Support for Supply Chain, Management of Pfizer Global Manufacturing |
| Marital Status | Single |
| Children and Ages: | Christopher - 20 years old (Shodan) |
| Hobbies, special interest or skills | Reiki Master, dancing, reading, co-owner of Lapis Arrow, a spiritual center/new age small business. Moderator of Jackie Olsen's Creative Heart & Soul Forum on George Mattson's website. |
| Age | |
Karate Information
Current Rank

Yondan

Total years of study

16 years

Current Dojo

Kalamazoo YMCA, Uechi-Ryu Karate-Do

Current style

Uechi Ryu

Dojo location

Kalamazoo, MI

Current Instructor

Mr. William Arch

Association affiliation

Independent - Mr. James Thompson, Uechi-Ryu Karate-Do Kokusai Association

Karate Training and Years attended

Some Aikido and QiGong

1988 & 1992 - Graduate of Dawn Callan's Awakening the Warrior Within and Stalking the Shadow Within Seminars

1989 - Summer Camp – Kalamazoo

1991 - Summer Camp – Kalamazoo

Various seminars by James Thompson and others at local dojos

1996-1999 - Taught at Joyner's Okinawan Martial Arts Center (Grand Rapids, MI)

Sr. Instructor Kalamazoo YMCA under Sensei Bill Arch

Karate Promotions
| | | | |
| --- | --- | --- | --- |
| Rank | Certificate Number | Date of Issue | Location of Promotion |
| Shodan | 4168 | November 21, 1993 | Kalamazoo, MI Okinawan Karate-Do Association |
| Nidan | 306 | November 26, 1996 | Kalamazoo, MI Okinawan Karate-Do Association |
| Sandan | 218 | November 15, 1998 | Kalamazoo, MI Okinawan Karate-Do Association |
| Yondan | 016 | November 16, 2003 | Kalamazoo, MI Okinawan Karate-Do Association |
Educational Background
College /University/ Vocational School : Attended Cuyahoga Community College & Grand Rapids Junior College; lifelong student of learning – have attended many personal growth workshops on alternative healing methods.
Questions:
At what age did you begin to study karate?
I was 38 years old.
Why did you choose to study karate?
Ursula K. LeGuin, a noted science fiction writer, said, "It is good to have an end to journey toward; but it is the journey that matters, in the end." It was with that thought in mind that I started martial arts training. In January 1988, I signed up for Uechi-Ryu Karate Do classes that were held at the local Y. I didn't know much about any martial art only that my business partner, who was a black belt at the main dojo, said that Sensei Arch had been at the Y over 20 years and was a good teacher. At the time, I had a baby sitting issue so the main dojo classes wouldn't do, while the Y conveniently provided baby sitting services during the one and a half to two hours of training, two times per week.
Was there a reason why you chose to study Uechi Ryu?
From the opening bow, I knew I'd come home, although I couldn't do anything. I was totally uncoordinated, tripping over my feet and everyone else's. I was known as a klutz most of my life. As a teenager, I could barely ride a bike, roller skate, or walk without falling. So, I began my training as it was the "thing to do". I struggled with balance and control from day one. It was difficult and pushed my physical body beyond its then limited capabilities. The only way I knew I could get through the training was to break down my commitment in three month increments. Each quarter's end found me renewing my intent as new challenges came with each kyu test. I was determined to understand exactly what mind/body/spirit unity was, and I felt that I could best learn that through my Uechi-Ryu training. (Interestingly enough, along the way, my son became interested in training as well as my ex-husband.)
What does this tour to Okinawa mean to you?
It's an incredible opportunity to be a part of something greater. It's about women, friendship, respect for our lineage and history. It's an opportunity to learn from others of like mind and spirit.
I recently read that the literal meaning of the kanji "dan" is to carve steps up a hill. That explains a student's progress from the kyu to dan rank. The Women's Tour is an opportunity to look back over what steps I and others have carved as well as an event to carve new ones... and so the circle goes.
How has your martial arts study affected or changed you life?
Martial arts truly has been a life-long journey to myself. I have learned much about my mental/spiritual/emotional and physical aspects through my training. I've learned how to persevere and take it to the limit one more time. I've learned to feel good about myself and to have patience with myself, life and others as well. I've made life-long friendships and had opportunities to share what I've learned through teaching. And most of all, I discovered my meaning and passion for life through training...