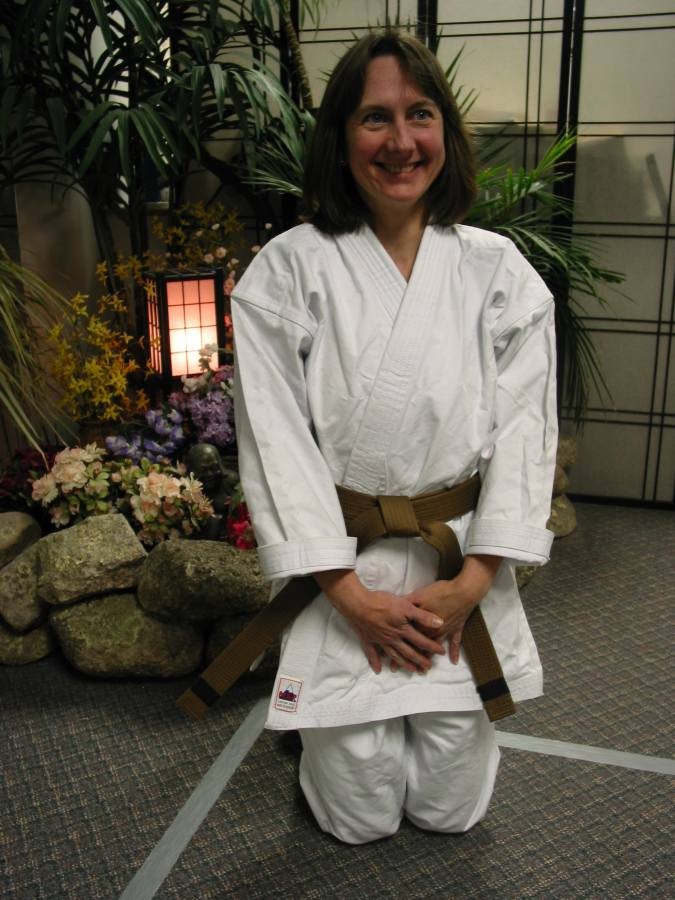 Biography
Although Karen started learning karate "late" in life, she always wanted to learn a martial art, but life got in the way. As it happens, fate stepped in when a karate school opened next to her child's day care. Despite her many commitments, including lots of work-related travel, Karen has been faithful to maintaining her training. Although feeling a little intimidated by her "newness" to karate, knowing that many of the other women involved in this endeavor have been training for years she's full of spunk and has signed on for the trip of a lifetime. By profession, Karen is a registered landscape architect employed in an engineering firm located in Providence , Rhode Island . As a landscape architect, she is responsible for the design of both commercial and residential landscapes (her "artist" side). Karen is also a wetland scientist, responsible for guiding projects through the many environmental permitting agencies at local, state and federal levels (her "scientist" side). Karen is active in many volunteer organizations, including being the Chair of the state board that regulates the practice of landscape architecture in Rhode Island.
Personal Information
| | |
| --- | --- |
| Current Occupation or Profession | Landscape Architect |
| Marital Status | Married |
| Children and Ages | Colin, Age 5 |
| Hobbies, Special Interests or Skills | Gardening, Reading , Photography, Scrap-Booking, Genealogy, etc. |
| Age | 42 |
Karate Information
| | |
| --- | --- |
| Current Rank | 1st Degree Black Belt (As of April 2004), currently Ikkyu |
| Total Years Of Study | 2 years |
| Current Style | Shohei-Ryu |
| Current Dojo | Traditional Okinawan Karate |
| Dojo Location | West Greenwich, Rhode Island |
| Current Instructor | Ed Oakley |
| Association Affiliation | Okikukai/Shohei-Ryu |
Karate Promotions
| | | | |
| --- | --- | --- | --- |
| Rank | Certificate Number | Date of Issue | Location of Promotion |
| Ikkyu | | November 29, 2003 | |
Educational Background
| | |
| --- | --- |
| College / University / Vocational School | University of Rhode Island |
| College Degrees | Bachelor of Science, Resource Development |
Questions
At what age did you begin to study karate?
40 years old.
Why did you choose to study karate?
Many reasons, including the fact that my son had started karate and I felt it would be good for me to know if he was doing it properly and it might be something we could eventually do together; I also felt I needed some form of exercise and knowing some form of self-defense would be beneficial.
Was there a reason why you chose to study Uechi Ryu?
No.  It happened to be the form of karate that was taught at the dojo adjacent to my son's day care facility.
What does this tour to Okinawa mean to you?
I am looking forward to visiting Okinawa for several reasons: (1) I love to travel and see foreign countries and ways of life; (2) As a landscape architect, the chance to experience and see authentic Japanese gardens is a chance of a lifetime; (3) I appreciate being given the opportunity to work with Masters and other students of karate.
How has your martial arts study affected or changed your life?
I feel more confident about myself and I have made several new friends.
Women's Friendship Tour association, inc. Marguerite Hess, 3576 N.E.Skyline Drive, Jensen Beach, Florida 34957 Telephone: (772) 334- 7731