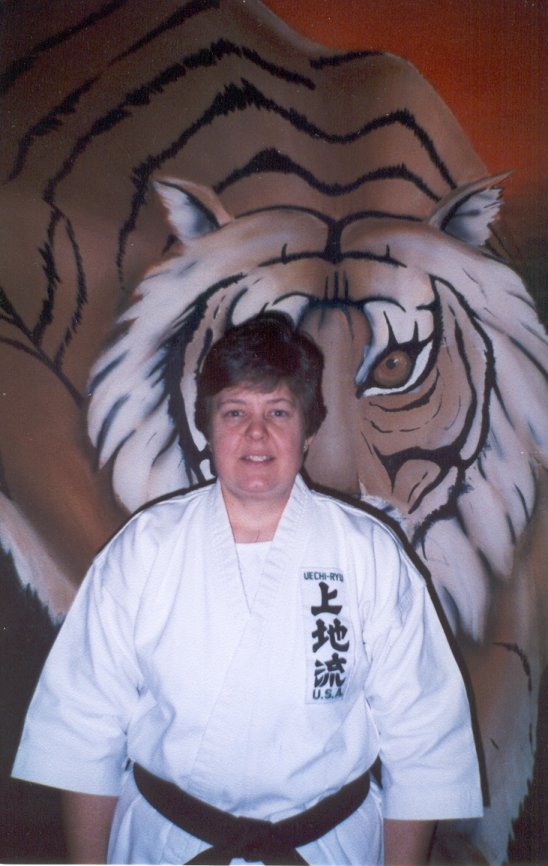 Biography
Kimberlee had a full schedule and busy life, both professionally and personally, even before thinking about a karate class. As Registered Nurse, working full time in Public Health, she's a regular in homes, schools, physician offices and clinics. Kimberlee teaches CPR for the American Heart Association and Immunization Nurse classes for the State of Michigan and has many other programs rounding out her busy job. Kimberlee identifies that she started taking a cardio kickboxing class at a local karate school with a friend from work because she was very overweight, out of shape and much in need of exercise. The instructor, now her sensei, kept talking about karate and how much it meant to her. Being curious, she decided to look into it. Kimberlee credits studying karate with changing her life and teaching her lots about herself, particularly how she deals with stress and frustration and how to be more patient. Her interest in helping others has resulted in assisting with teaching the pee wee classes and children's classes. While the rest of Kimberlee's life doesn't know what to make of all this, her family thinks karate is just a phase. If so, she believes it will be a long one, probably the rest of her life.
Personal Information
| | |
| --- | --- |
| Current Occupation or profession: | Registered Nurse - Public Health Nurse |
| Marital Status: | Single |
| Age: | 44 |
| Hobbies, special interest or skills: | Student of massage therapy and bodywork (will graduate in 2/04). Certified CPR instructor, First Aid Instructor. |
Karate Information
| | |
| --- | --- |
| Current rank: | Shodan |
| Total years of study: | 4 years |
| Current style: | Uechi Ryu |
| Current dojo name: | South Haven Karate Academy |
| Dojo location: | South Haven, Michigan |
| Current instructor: | Teresa McClary |
| Association affiliation: | Independent, Mr. James Thompson |
Karate Promotions
| | | | |
| --- | --- | --- | --- |
| Rank | Certificate Number | Date of Issue | Location of Promotion |
| Ikkyu | | July 2002 | South Haven, MI |
| Shodan | 49 | November 16, 2003 | Kalamazoo Okinawan Karate Academy, Kalamazoo MI |
Educational Background
College:

a. Michigan State University, East Lansing, MI

Associate Degree in Nursing (1981)

b. Lake Michigan College, Benton Harbor, MI

Bachelor of Arts in Social Work (1984)

Post graduate work:

Certified immunization nurse educator for State of Michigan
Questions:
At what age did you begin to study karate?
I began my study of karate just before my 41st birthday.
Why did you choose to study karate?
My interest in karate started while I was going to a cardio kickboxing class. The instructor was so positive about karate that I had to try it and see what it was about. The more I learn, the more I want to learn.
Was there a reason why you chose to study Uechi Ryu?
My instructor teaches Uechi Ryu, it is the only style I have tried.
What does the tour to Okinawa mean to you?
This opportunity to tour Okinawa will be a one-in-a lifetime event for me. I hope to see where our style was founded, to study and train. To tour Okinawa and learn something more about this beautiful island and culture is exciting to me.
How has martial arts study affected or changed your life?
I was surprised how much I learned about myself. How I learn, how I manage stress, how I focus and persevere when confronted with difficulty. This has not been material that came to me easily, and the lesson has sometimes been a struggle. I feel this experience makes me better at all of the other aspects of my life.
Women's Friendship Tour association, inc. Marguerite Hess, 3576 N.E.Skyline Drive, Jensen Beach, Florida 34957 Telephone: (772) 334- 7731