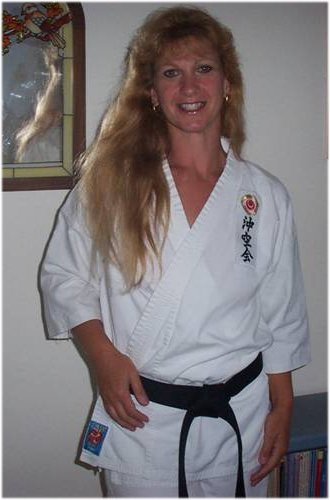 Biography
Maria began to study karate at age 35 after many years of interest in the art. Once she began, she knew she was there for the long haul. Just after starting karate, she found out she was pregnant and continued to study until she was 5 months pregnant and couldn't get out of her own way! To everyone's surprise, she returned to karate just 2 months after her son was born and has been studying ever since. Her children are a big part of why Maria studies, seeing herself as the primary person who will protect them against the world. Maria is intrigued with how the learning of karate unfolds, noting that with each new rank, she discovers how much more she has to learn. She credits her fellow students and teacher for their patience and the confidence they've instilled in her. With this trip to Okinawa , Maria looks forward to the opportunity to bond with women around the world who have an interest in karate. Maria says that studying karate has been one of the wisest decisions of her life, identifying that as a result of her study she has no fear in her heart, but rather a serene calmness.
Personal Information
| | |
| --- | --- |
| Current occupation or profession: | Other |
| Children and Ages: | 2 daughters, 16 and 18; one son, 14 |
| Hobbies, special interests or skills: | I love music – listening to all kinds, playing piano and singing |
Karate Information
Current Rank:

Godan

Total years of study:

Years

Current style:

Shohei Ryu

Current dojo:

Okinawan Karate Club

Dojo location:

Stoughton, MA

Current instructor:

Steve Banchick

Association affiliation:

Okikukai/Shohei Ryu

Karate and other martial training and years attended:

Aug 1998 - training with Takara, Inada, Nakahodo

Aug 1999 - training with Higa, Takamiyaga

Aug 2001 - training with Izumi, Takara

Aug 2002 - training with Nakamatsu
Karate Promotions
| | | | |
| --- | --- | --- | --- |
| Rank | Certificate Number | Date of Issue | Location of Promotion |
| shodan | 4882 | November 16, 1997 | Framingham, MA |
| Nidan | 2456 | December 6, 1999 | No. Attleboro, MA |
| Sandan | 1271 | May 19, 2002 | No. Attleboro, MA |
| Yondan | 730 | November 6, 2005 | Quincy, MA |
| Godan | 469 | May 16, 2010 | Peabody, MA |
Educational Background
College/University/Vocational School:
Holyoke Community College, Holyoke, MA

Bentley College, Waltham, MA

College Degrees:
Associates in Arts, Bachelor of Science
Questions:



At what age did you begin to study karate?
I began to study karate at age 35 after many years of interest in the art.  I guess it took courage and encouragement to finally become involved and dedicated to study.
Why did you choose to study karate?
I wanted to study karate to have the ability of not being placed in a compromising position in any time of my life because of my gender. Also, I was solely responsible for raising three young children and I was, and still will be their only line of defense in case of emergency.
Was there a reason why you chose to study Uechi Ryu?
Many people in my local area recommended that if I was serious about karate, the only instructor and style to consider was Ed DeCosta in North Attleboro, MA.  I did not want to be involved with any money making school not dedicated to the art.  Ed's reputation precedes him and is well respected.
What does this tour to Okinawa mean to you?
I am in awe of the Okinawan culture and karate. I would like to see the origin of the style of karate that I study and learn more about the people of Okinawa.  I hope to be inspired (as I always am by the Okinawans) to continue to study and to be more proficient at something I love to learn.
How has your martial arts study affected or changed your life?
Martial arts has made me more confident and a secure person. It definitely gives me a sense of balance in my life.
Women's Friendship Tour association, inc. Marguerite Hess, 3576 N.E.Skyline Drive, Jensen Beach, Florida 34957 Telephone: (772) 334- 7731