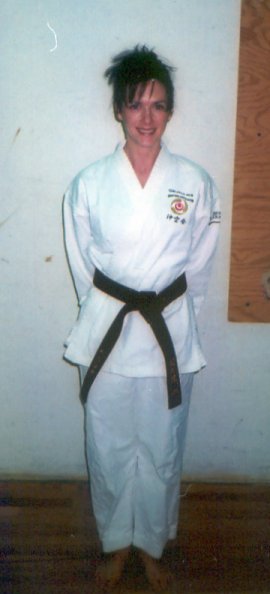 Biography
Mary Ann began studying martial arts in 1990 for the physical exercise and found Uechi Ryu in 1998, but it has since blossomed into a lifestyle. Starting out, she looked to getting a black belt as the ultimate that could be attained. As she got closer to that goal, Mary Ann realized that, the more she knew, the more she had to learn and that achieving a black belt is only the beginning. She has many interests and has been blessed to have many experiences. Mary Ann counts her study of Uechi Ryu among those blessings. Uechi karate has shown her the importance of personal strength and balance. It has also given her the focus to keep balance and discipline in her life. Mary Ann is married and works in management in the sales area of heavy machinery. She describes herself as a confident, strong woman who is not afraid to take appropriate risks to live a fulfilled life. Joining this historical venture to Okinawa will only add to the richness of her life experiences.
Personal Information
| | |
| --- | --- |
| Current occupation or profession: | Management/Sales at a Caterpillar Dealership (Heavy Machinery) |
| Age: | 31 |
| Marital status: | Single with 2 cats |
| Hobbies, special interests, and skills: | Other than Uechi Ryu, I enjoy outdoor activities such as hiking, mountain biking, and snowboarding. I have participated in numerous self-defense firearms classes and activities. I practice yoga and had previously taught yoga. I also knit. |
Karate Information
Current rank:

Shodan

Total years of study:

6 years

Current style:

Uechi Ryu/Shohei Ryu

Current dojo and location:

Greensburg Uechi Karate, Greensburg , PA

Current instructor:

Dr. Dan Rinchuse, Renshi 6 Dan

Association affiliation:

Okikukai, Shohei Ryu

Karate and other martial arts training:

Uechi Ryu – 6 years of study (1998-2004)

Jiu Jitsu/ Submission Fighting – 2 years (2002-2004)

Kali (Filipino) – 3 years of study (1990 – 92, 97)

Kali and Western Boxing seminars (1990)

Muay Thai – 1 year of study (1997)

Weapons training (Dagger) – 1 year (1997)

Weapons Disarm training – 1 year (1997)

John Saylor Grappling Seminar (September 2002)
Karate Promotions
| | | | |
| --- | --- | --- | --- |
| Rank | Certificate Number | Date of Issue | Location of Promotion |
| Ikkyu | | November 2000 | Greensburg , PA |
| Shodan | | October 26, 2002 | |
Education Background
College/University:

Seton Hill University, Greenburg, Pennsylvania

Degree:

a. Bachelor of Arts, 1994,
Management-Human Resources/Information Systems

b. Continuing education in computer programming
Questions:
At what age did you begin to study karate?
During college in 1990.
Why did you choose to study karate?
I chose to study martial arts at that time for self-defense and physical exercise. Although I still appreciate those things, also now enjoy the physiological aspects of my martial arts training.
Was there a reason why you chose to study Uechi Ryu?
After having some martial arts training in Kali, I found Uechi Ryu to be more suited to my physique and personal style.
What does this tour to Okinawa mean to you?
This tour to Okinawa is a fantastic opportunity to be involved in an event that will allow us to experience the universality of the art we study. It is an opportunity to experience the art in a fuller sense by being at its birthplace with those who not only study, but also live, the art; and those who strive to do so.
How has your martial arts study affected or changed your life?
Martial arts study has affected my life by helping me develop into a confident, strong woman who is not afraid to take appropriate risks to live a fulfilled life. It has helped me to maintain a balanced approach to all that I do.
Women's Friendship Tour association, inc. Marguerite Hess, 3576 N.E.Skyline Drive, Jensen Beach, Florida 34957 Telephone: (772) 334- 7731