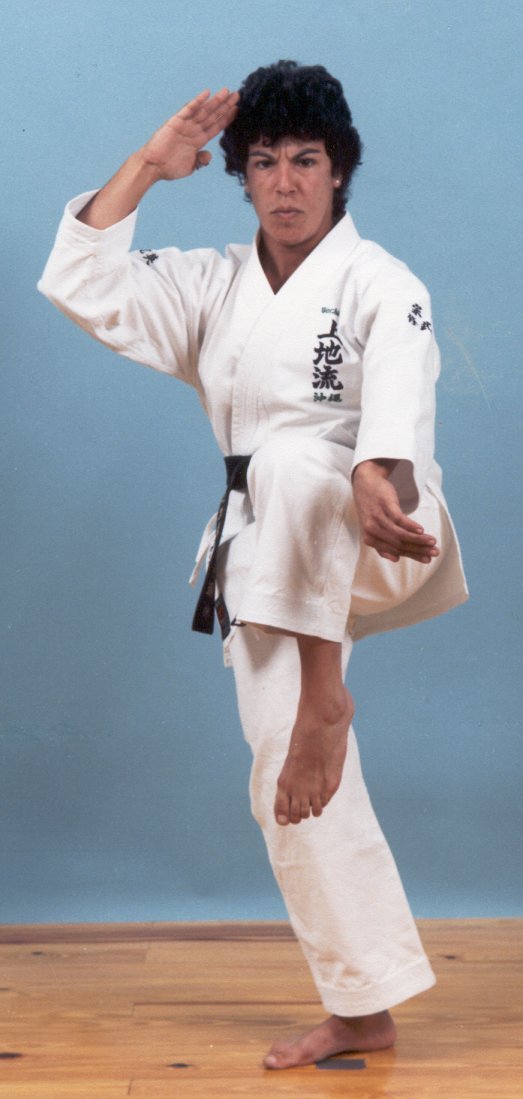 Biography
Peggy is the energetic force behind the Women's Friendship Tour. Raised in the friendly, ethnically diverse community of Brockton Massachusetts, Peggy and her 6 siblings grew up immersed in the Lebanese culture of their parents. Throughout her school years, Peggy was very athletic and spunky- some traits show early! In 1974, following a fun time at teacher's college, Peggy graduated with a B.S. in education. Shortly after, her love of travel and adventure took precedence and she set out traveling all over the U.S. covering over 30,000 miles. Among other things, she slept at the bottom of the Grande Canyon and has fried an egg on the ground in Death Valley. Her teaching connections later provided the opportunity to visit a friend in northern Canada , which gave Peggy the unique experience of 2 months living just below the Arctic Circle. Peggy credits her friend Steve Banchick with introducing her to karate. Her first of many trips to Okinawa was in 1978, when she trained for over two months at the Futenma dojo, directly under Master Uechi. On her return she stopped off in Hawaii, which won her heart so much that she saved money and returned to live there for almost a year. Late in 1979 while still in a full leg cast from a very serious accident, she met her future husband Doug. Today Peggy has a great life… a happy marriage, good friends, living on the highest point on the east coast of Florida. Every year she has many visitors from around the world mostly to train with her in her home based dojo, where she can have no more than ten or twelve adult students at any given time. Knowing that she has positively touched and influenced so many people over the years brings a great satisfaction and meaning to Peggy's life and will continue to do so. Without Peggy's drive and determination, this incredible trip would likely not even have been conceived as an idea, let alone a reality. In addition to the trip, the return of the historic tapestry to Okinawa in a gesture of international friendship is also of Peggy's making. The significance of this gesture is also close to Peggy's heart from a personal perspective, given the fact that as a WW II veteran, her father served in the fierce battle of Okinawa. And as for heart… Peggy has lots.
Personal Information
| | |
| --- | --- |
| Current occupation or profession: | housewife/teacher |
| Marital Status: | Happily Married |
| Children and Ages: | None |
| Hobbies, special interests or skills: | listening to all types of music, stamps, tropical birds, traveling, gardening, dinner parties. |
| Age: | |
Karate Information
Current Rank:

Renshi Rokkudan

Total years of study:

Current style:

Shohei-Uechi Ryu Karatedo

Current Dojo:

Jensen Beach Uechi-Shohei Dojo

Dojo location:

Jensen Beach , Florida

Current Instructor:

John V. Summers

Association affiliation:

Okikukai/Shohei Ryu

Karate training and years attended:

1978 Feb-Apr.Training Okinawa (Shodan)
1983 Aug. Thompson Island camp MA.
1984 July Training on Okinawa (Nidan) 
1984 Aug Thompson Island camp MA.
1985 Nov- Dec. Training on Okinawa 
1987 Aug. K. Uechi/ Nova Scotia Camp Canada 
1987 Nov-Dec.Training Okinawa (Sandan)
1988 July Shinjo Week Washington, D.C.
1989 July Thompson/Kalamazoo Camp MI.
1989 Aug. Gushi Training Week FLA.
1990 Aug. Henneker, NH camp 
1990 Nov-Dec.Training Okinawa (yondan) 
1991 May Wasielewski/Shinjo Week MA.
1991 July.Thompson/Kalamazoo Camp, MI 
1991 Nov. Gushi Training Week, FLA. 
1992 Aug. Shinjo/Guidry seminar, FLA. 
1993 March Gushi week, FLA.
1994 Aug.Takara week, MA.(Godan) 
1994 Oct. Teruo Chinen seminar FL. 
1995 March Gushi week, FL.
1995 Aug.Nakamatsu/ N.Higa week FLA.
1997 Aug.Nakamatsu/Gorman Week 
1998 Takara/Attleboro Week MA.
1998 Oct.Training on Okinawa (Renshi) 
1999 Mar. Mid-Atlantic Seminar
1999 Aug.Takara Attleboro week
1999 Aug Jinkichi Uezu Weapons, FLA. 
2000 Takamiyagi Attleboro week
2000 July Nakamatsu/Gorman Week 
2001 Takara Attleboro/Pittsfield Weeks
2002 July Nakamatsu/Gorman Week FLA 
2002 Aug Nakamatsu/Summers week MA.
1985 -present: Various seminars with  James Thompson, 

	Frank Gorman and Jack Summers throughout Florida.

2003 April visit and training on Okinawa

2003 June 22- June 27 Connecticut Koshukai with Kiohide Shinjo

2004 March 4-6 Seminar with Master Shinyu Gushi in Brandon, Florida

2004 April 6-26, Developed,organized and executed "The International Women's Friendship Tour to Okinawa"

2004 April 16, Initiated,organized, conducted and participated in the "first" joint demonstration with the 3rd Division United States Marine Corps Martial Arts Division Far East at Marine Base Camp Courtney on Okinawa

2004 April 26, Initiated,organized and executed the "first ever" public women's martial arts demonstration called ,"The Martial Arts Festival of Women" held at the Ashibina Theater in Okinawa City, Okinawa Japan.

2004 June 3-day training seminar with Ken Nakamatsu Sensei in Tampa,Florida

 

Other Martial Arts or weapons Studies:

Guest Instructor for German Summer Camps:

1992,1993,1994,1995,1996,1997 Bad Kissenger, Germany

1998, 1999,2000,2002 Erlangen, Germany
Guest Instructor at various dojos throughout the U.S.
Studied Tai Chi Chuan
Studied Aikido
No weapons experience
Karate Promotions
| | | | |
| --- | --- | --- | --- |
| Rank | Certificate Number | Date of Issue | Location of Promotion |
| Gokyu | | April 1974 | Brockton, MA Mattson Academy |
| Ikkyu | | January 5, 1975 | Brockton, MA Mattson Academy |
| Shodan | 1264 | April 13, 1978 | Futenma, Okinawa |
| Nidan | 1001 | July 22, 1984 | Futenma, Okinawa |
| Sandan | 590 | December 15, 1987 | Futenma, Okinawa |
| Yondan | 372 | December 4, 1990 | Chatan, Okinawa |
| Godan | 233 | December 4, 1994 | Framingham, Ma |
| Rokkudan | 114 | December 4, 1999 | Chatan, Okinawa |
| Kyoshi | 95 | March 27, 2009 | Jensen Beach, Florida |
View You Tube videos of Peggy's 7th Dan test
Uechi Dan Testing - Part 1.mp4
Uechi Dan Testing - Part 2.mp4
| | | |
| --- | --- | --- |
| Teaching Certificates | Certificate Number | Date of Issue |
| Shidoin | 130 | January 1, 1982 Brockton , Ma |
| Jun-Shihan | 60 | December 1, 1990 Okinawa |
| Shihan | 146 | December 4, 1994 Okinawa |
| | | |
| --- | --- | --- |
| | | |
| Other Martial Degrees and recognitions | Certificate Number | Date of Issue |
| Ryuko Karatedo | 21 | July 1991 - Master Shinyu Gushi |
| Letter of Thanks Serbia Shohei Association | 008 | July 4, 1998 Vladimir Popovic |
Educational Background
College:

University of Massachusetts , Amherst, Ma

Bridgewater State Teachers College , Bridgewater , Ma

College Degree(s):

Bachelor of Science Health, Science and Physical Education grades K-12
Questions
At what age did you begin studying Karate?
In 1973, at age 20, my last year of college, I began studying Uechi Ryu Karatedo.
Why did you choose to study Karate?
Being athletic by nature and a Physical Education major in college, I was naturally drawn to it. When I observed my first class, I fell in love immediately. I loved the idea that it was a sole sport form, relying on no one but myself for improvement; something that I could do all my life. It allowed me to be very physical and strong, in a comfortable atmosphere, without sacrificing my femininity.
Was there a reason you studied Uechi Ryu?
My friend, Steve Banchick, returning from military duty, signed up at the local Mattson Academy of karate. Three weeks later he invited me to come and join a class. We have trained together ever since and the rest is history.
What does the tour to Okinawa mean to you?
I have been to Okinawa at least seven times starting in 1978. All of my promotions except for Godan have been on the island. All including my Godan test have been in front of an all Okinawan board. That being said, in the past I have either traveled alone or with all men. However, each time I go the excitement is always there. Going with such a large group of women is a first time event, a chance in a lifetime. This has never been done before. It is exciting to know that we all will be making the history of not only karate and Okinawa , but also the history of women in martial arts and the history of women in Uechi-Shoheiryu karatedo! To meet and train with such a large group of mostly advanced Uechi-shohei ryu women from around the world, making new friendships, not only is very exciting but a once in a lifetime opportunity for all of us.
How has your martial arts study changed your life?
Where do I begin?!! My study of Shohei-Uechi Ryu has evolved into a lifetime and definitely a way of life. My attitudes, priorities, posture, way of thinking, friendships and marriage have all been positively affected by it. Without it I would not have met the wonderful men and women that now share my life. Through my study and subsequent travels I have met people from around the world… something that would have never happened if I had not discovered our beloved martial art! I have traveled and taught all over the world and attended many camps both stateside and globally. I have now made friends in Serbia, Slovenia, Germany, Netherlands, Greece, Okinawa, Japan, Canada, Venezuela, Argentina, Australia, Croatia, Switzerland, Great Britain and all over the United States. I am very, very lucky and I know and appreciate it. My husband Doug is my biggest supporter and best friend. In 1985 he was able to travel to Okinawa with me and to meet not only Master Uechi but also many of the Okinawan senseis on a personnel level. He even was able to cook supper one evening for Mrs. Uechi and Sensei in the home of Arbie Kenefick, an experience we all will never forget! Arbie and I have the same teacher, Mr. Jack Summers and we came from the same dojo back in Brockton. As a brown belt, in 1973, Arbie traveled to and eventually lived on Okinawa for over twenty-five years. He was the first American to win first place in the All Okinawan Kumite Series back in 1983! Today our friendship is as strong as ever! My students are mostly adult professionals as I no longer teach children. These students are also my friends who I socialize with regularly. In my teaching career I have produced 21 dan ranks and five junior dan ranks. Watching the children who I have taught grow into courteous, respectful and strong young adults gives me a sense of accomplishment. There is a constant flow of visitors from all over the world to my home and dojo. We eat well, train hard, laugh a lot and drink cold beer, while renewing our friendships!!!!