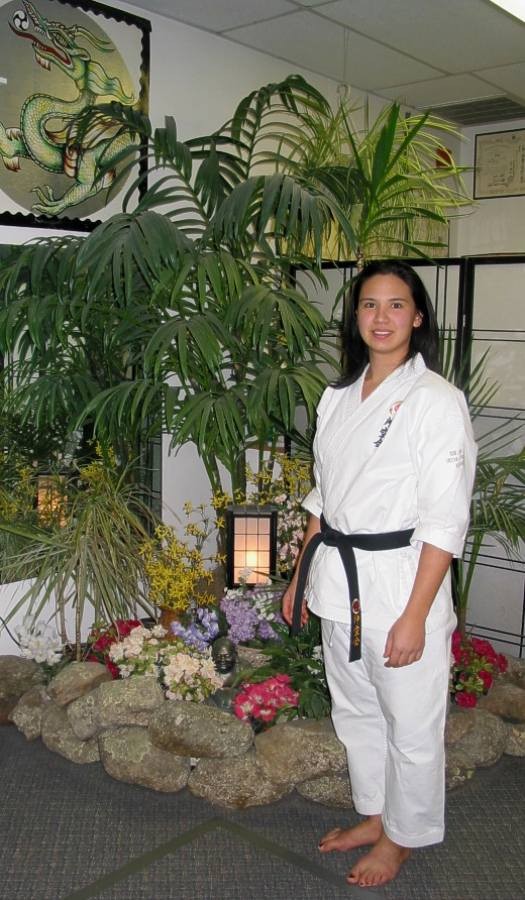 Biography
Sue Ling started studying karate at age 14, as a shy and quiet teenager, hoping that it would build her self confidence. Through her teacher, Ed Oakley, she has loved the training and been inspired to do well. When she heard about this amazing opportunity, she did not hesitate a moment to confirm her spot! Sue Ling describes herself as your typical go-getter, allowing nothing to get in the way of her dreams. Her hectic schedule revolves around being a single mom to her beautiful daughter, dance classes, cooking and being the head instructor at her dojo. She loves helping people gain confidence through her teaching and appreciates being able to get to know students personally. She feels privileged that they trust her with their hopes, dreams, and fears. Sue Ling used to look at some people and wish she had a career like theirs. She now realizes that others think that of her. Sue Ling truly feels that she would be a very different woman today had she not been involved in the martial arts. As crazy as things may get, she loves every moment of her life, living for each challenge. Being a believer that you can do anything you set your heart and mind to, Sue Ling is aiming for the sky!
Personal Information
| | |
| --- | --- |
| Current occupation or profession: | Martial Arts Instructor |
| Age: | 23 |
| Marital status: | Single |
| Children: | One daughter, 4 |
| Hobbies, special interest or skills: | Martial Arts, cooking, computers, hula, tap and ballet dancing |
Karate Information
Current rank:

Nidan

Total years of study

10 years

Current style

Shohei ryu

Current dojo:

Traditional Okinawan Karate, West Greenwich , RI

Current Instructor:

Ed Oakley

Association affiliation:

Okikukai/Shohei Ryu

Karate and other martial training and years attended:

Uechi-Ryu May 1994-Present

George Mattson's Summer Camp; 1996, 1997, 2002

, 2003

Mushin-Do Martial Arts Fall Festival; 2001, 2002 (organized by Sensei Ed Oakley)

Martial Arts Leadership Convention, Orlando Florida ; 2002

Other martial arts or weapons studied:

Bo: 2002-Present: Sensei Chick Gavitt

Sai: 2002-Present: Sensei Chick Gavitt
Other martial degrees, certifications and recognitions:

2nd place kata; George Mattson's Uechi Ryu-World Championships, 2003

1st place kata; Chick Gavitt's St. Patrick's Day Invitational; 2003

4th place weapon; Chick Gavitt's St. Patrick's Day Invitational; 2003

1st Place Kata, George Mattson's Uechi-Ryu World Championships, 2002

1st Place Weapons Division; Rhode Island State Games; 1997

1st Place Kata Division; Rhode Island State Games; 1997

2nd Place Kata Division; Rhode Island State Games; 1996

3rd Place Sparring Division; Rhode Island State Games; 1996
Karate Promotions
| | | | |
| --- | --- | --- | --- |
| Rank | Certificate Number | Date of Issue | Location of Promotion |
| Shodan | 5420 | October 20, 2001 | Rhode Island |
| Nidan | 2697 | April 4, 2003 | West Greenwich Rhode Island |
Educational Background
College /University/ Vocational School :

a. Warwick Academy of Beauty Culture; Warwick, Rhode Island; Manicuring 1998

b. Community College of Rhode Island; Warwick, Rhode Island; General Education/Law Enforcement 1998-2000

c. Johnson & Wales University; Providence, Rhode Island, Culinary Arts, 2001-2003
Questions:
At what age did you begin to study karate?
I began training in the style of Uechi-Ryu Karate under the instruction of Sensei Ed Oakley at the age of 14.
Why did you choose to study karate?
Being very quiet and shy, I had hopes of building self-confidence through my training. Sensei Oakley's love for this system guided me through ten years of inspiring training, and built my confidence level above where I ever expected it to be.
Was there a reason why you chose to study Uechi Ryu?
The reason I chose Uechi-Ryu was the devotion I saw in Sensei Ed Oakley and his instructors. Sensei Ed gave seminars at my middle school, and my mind was made up. It took a few years before I actually started, but I eventually did it, and love every moment.
What does this tour to Okinawa mean to you?
This tour to Okinawa provides me with an unbelievable chance of a lifetime! Not only do I get the chance to meet and train with several Okinawan Masters, but I also am provided with the opportunity to meet and travel with many Uechi women with different perspectives of our style. Women from different parts of the world, different lifestyles, careers and ideas. All of whom I am proud to say belong to my very extensive Uechi Family.
How has your martial arts study affected or changed your life?
The Martial Arts has also given me a lifestyle that others envy. The ability to do what you love for a living is a rarity.
Women's Friendship Tour association, inc. Marguerite Hess, 3576 N.E.Skyline Drive, Jensen Beach, Florida 34957 Telephone: (772) 334- 7731